When it came time for me to decide who our first spotlighted couple should be for this month's "First Look on the 1st," there was no doubt in my mind that it should be Carrie! I mean, she's literally written a book on Disney weddings (Which you can conveniently buy here!) Without further ado, here's Carrie's take on her own "first look." :)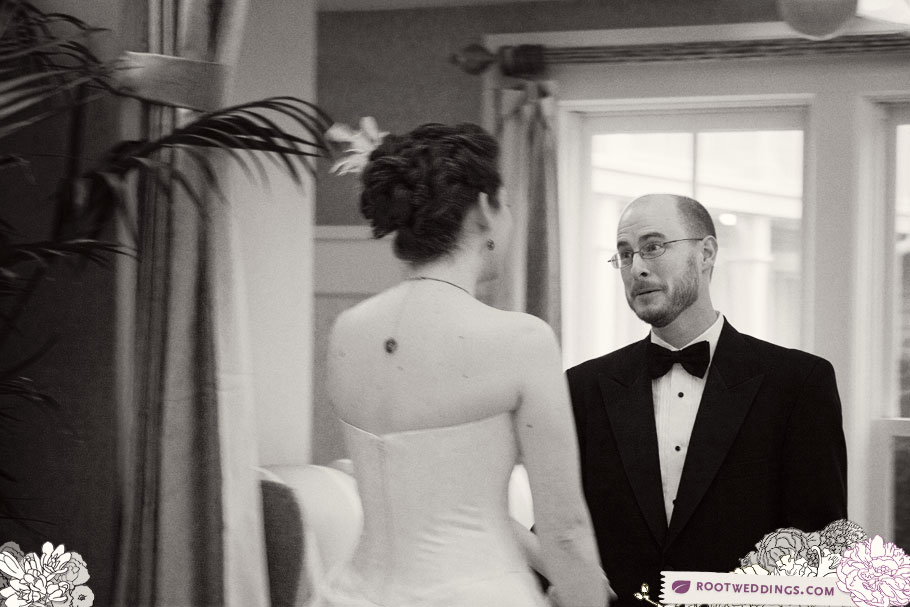 Our first look, which we'd planned purely for practicality, ended up being the most intensely emotional moment of our entire wedding day.
Because photography was so important to us, Patrick and I had no problem with the idea of seeing each other before the ceremony. It would allow us the luxury of a 90-minute portrait session in multiple gorgeous locations without making our guests wait around for us after the ceremony (always my least favorite aspect of a wedding). It would also mean that we could all travel together from the ceremony to the reception, which maintained the intimate feel we were going for that day.
But our first look turned out to be more than just convenient—it became a moment of pure emotional connection that grounded us in the true purpose of our wedding day.
As I rounded the corner into the hotel lobby, I was excited but anxious about a million little details that were already slipping through my grasp. Then Patrick turned toward me, and the rest of the world fell away. Tears welled up in his eyes as he took my hands and whispered, "You look BEAUTIFUL!" Instantly, the million little details didn't matter anymore. This day was about the two of us in love, starting our marriage.
I cherished every moment we spent together before the ceremony launched us into the whirlwind of the day. Laughing and smooching and mugging for Jensey and Nate calmed us down and made us feel like ourselves again. And you know what? When I finally did walk down the aisle and lock eyes with Patrick, our hearts still skipped a beat!
Want to read more about Carrie's wedding day? You can find her whole wedding and trip report here. :)

19 Responses to "First Look on the 1st : Carrie + Patrick"
Yea Carrie! Great picture and story. :-)

Elizabeth on July 1st, 2011 at 10:29 am |
Wow! I just got all teary!

Jessie on July 1st, 2011 at 12:48 pm |
Awwww…. I love that photo…. Thanks Jensey and Elizabeth!
Carrie
on July 1st, 2011 at 12:35 pm
|
Love it! Such a great picture & two such fun people.
melanie on July 1st, 2011 at 1:57 pm
|
I love this first look series!! Next time will you include a link to the couples' original wedding post too? I love seeing all the old pics :)
Lorie
on July 2nd, 2011 at 8:57 am
|
If said couple *has* a blog post, yes. That's why I linked to her wedding trip report instead. ;)

Jensey on July 2nd, 2011 at 11:01 am |
This pictures is so precious. You can just see the love all over Patrick's face. I was all teary eyed by reading Carrie's post about that moment in time. Such a beautiful memories and all their wedding photos are gorgeous! Her wedding report and the pictures made me a "Root fan" for life :)
First looks are my favorite!!
Tracy Brooks
on July 2nd, 2011 at 7:12 pm
|
maweeee! My fav root couple of course! but how much do I love Patrick? such a great pic!
Jenn Paul on September 5th, 2011 at 2:06 pm
|