So, I'm gonna start this post with a disclaimer Nathan wanted me to put out last week: The time we spent in Paris was freezing cold. Well… 2-3 degrees above freezing, actually. It was cold, windy, rainy, and down-right miserable most of the time we were there. Though we had our cameras with us 90% of the time, it became miserable to stop, take off our gloves, and take a photo. That being said, Nate came home completely disappointed in the photos he took, and didn't really want me to blog them. I, however, think they're just wonderful and want to share, anyway. So there you have it. I win. :)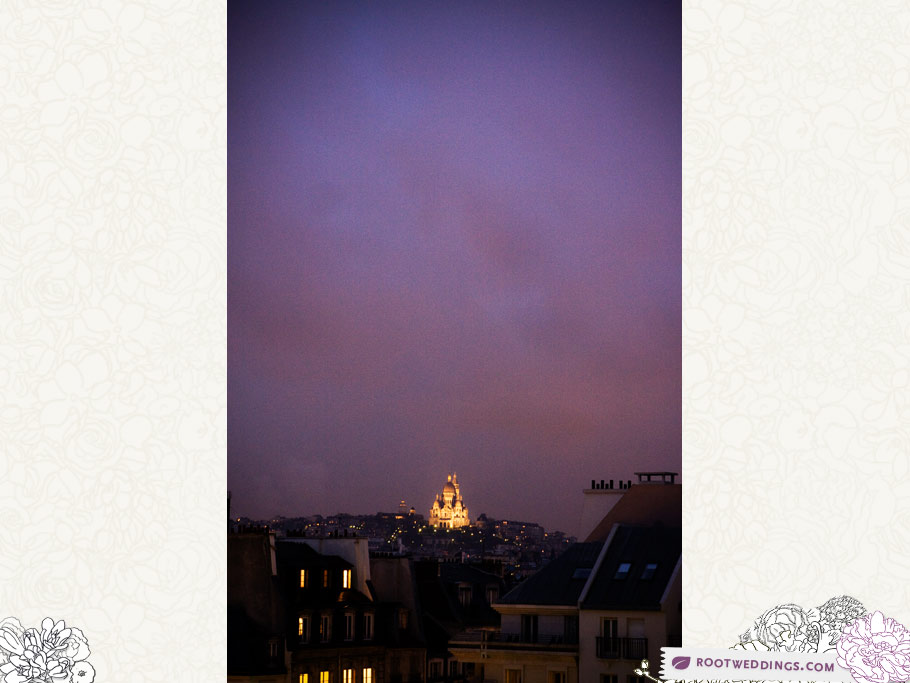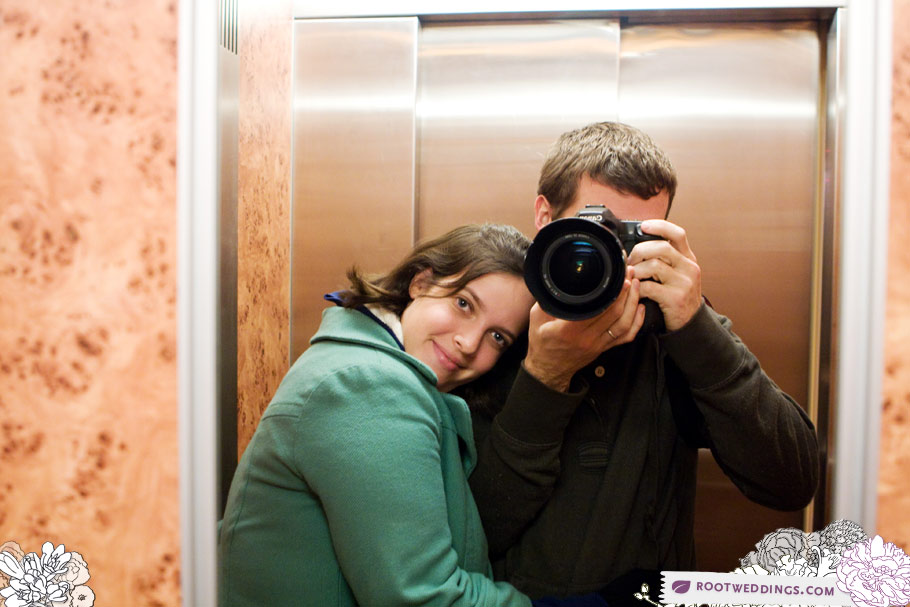 Once Lorie and Jon were gone, Nate and I checked into a hotel my Mom suggested to us. Oh my goodness, I loooooooved our hotel. Loved it! We stayed at the Emeraude Hotel Madeleine in Madeleine Plaza. It was right next to a major Metro stop, their staff was so welcoming, and the room was darn right adorable. :)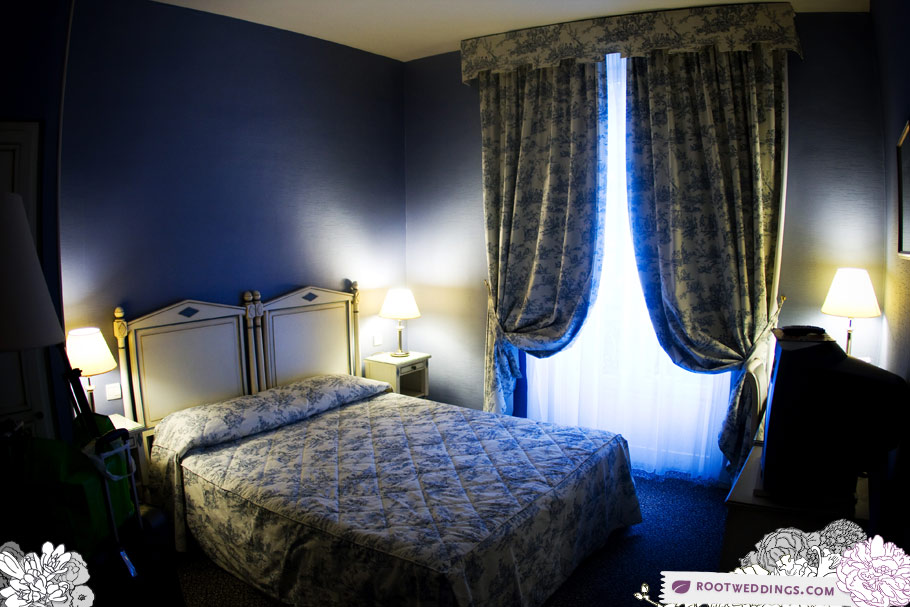 This was the view from our room!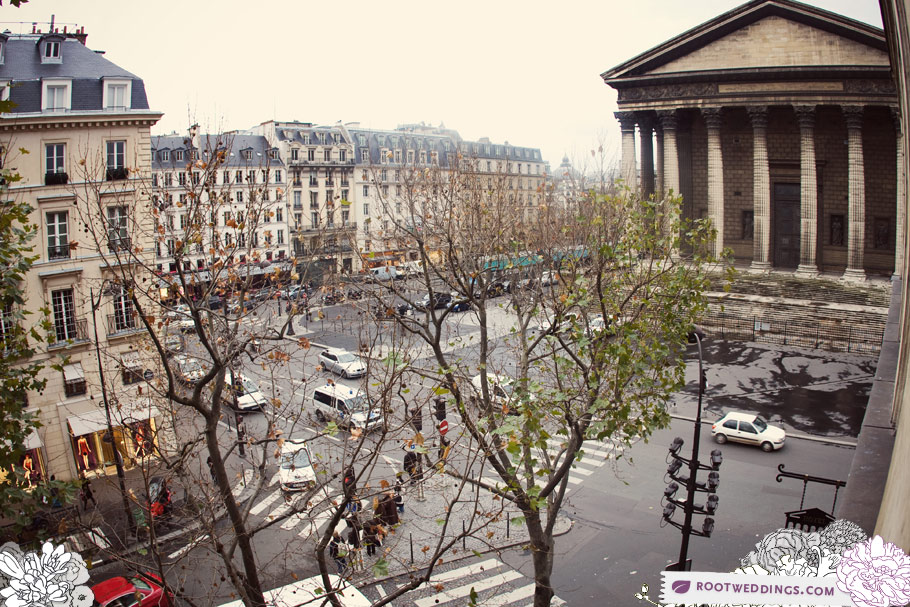 This was from the day I fell in love with a store the States don't have (yet?) called Habitat. I mean, seriously. I never thought I'd fall in love with a coffee table, but seriously, look at this coffee table!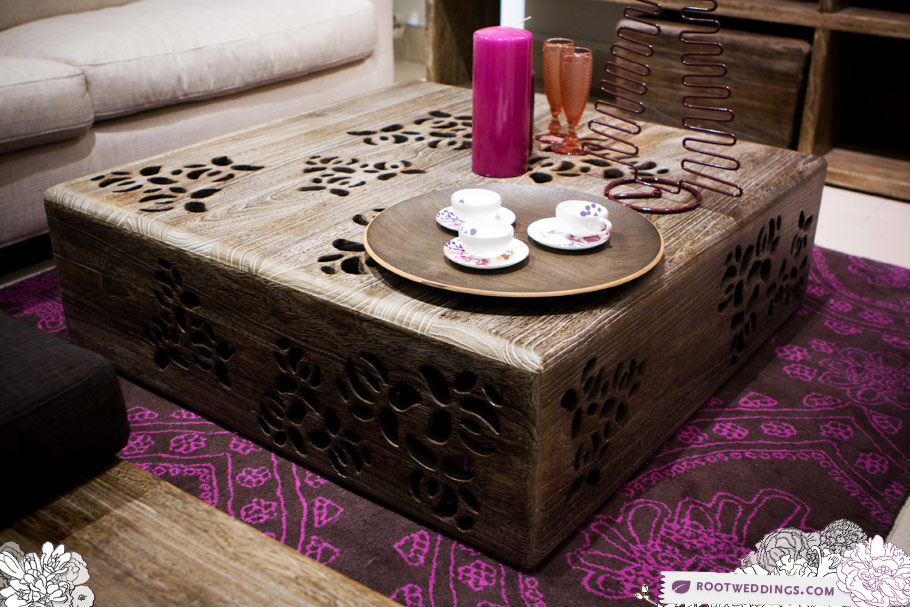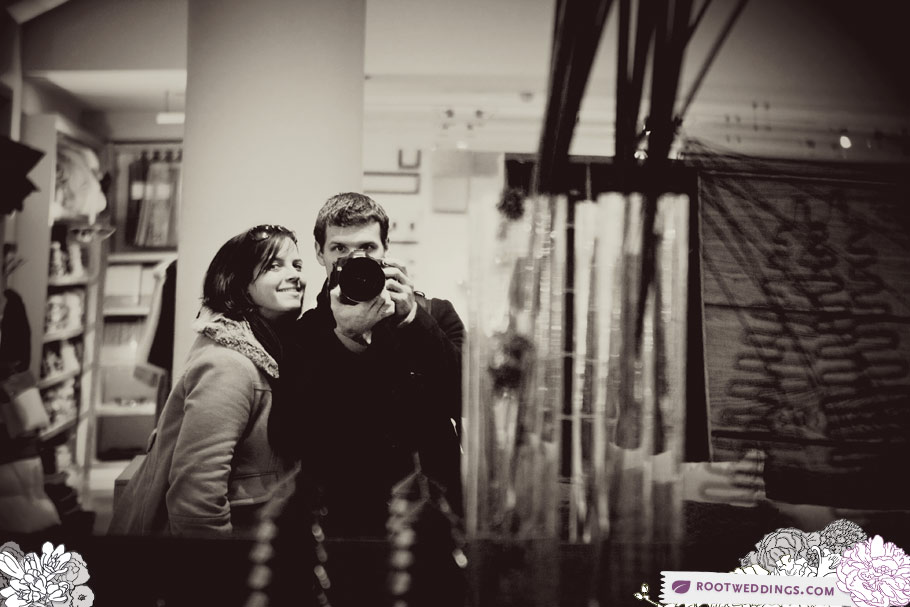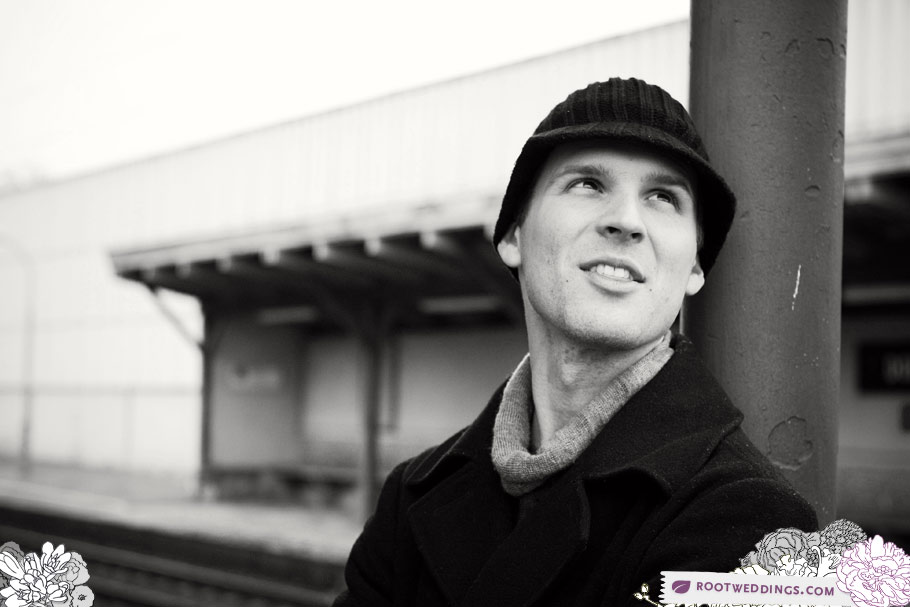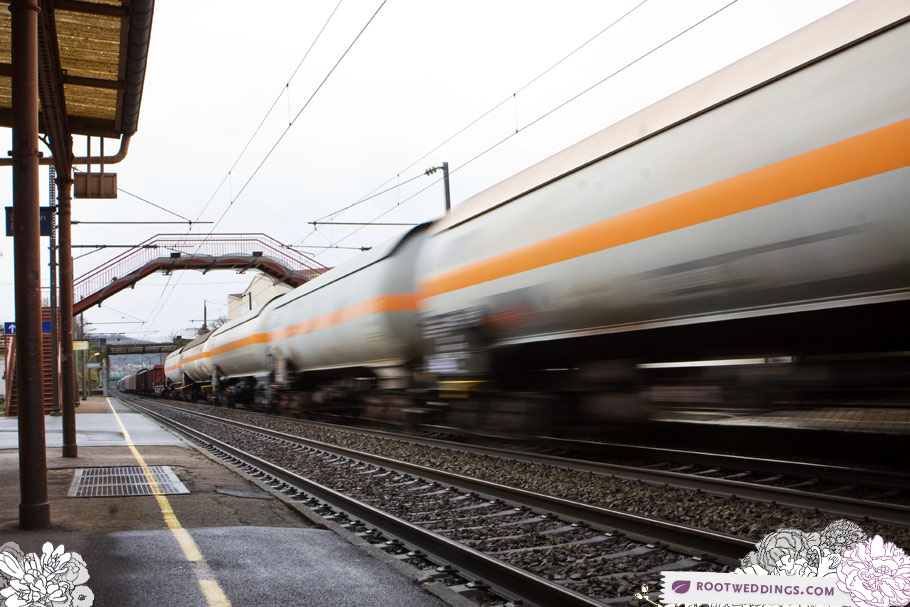 Wanta Fanta?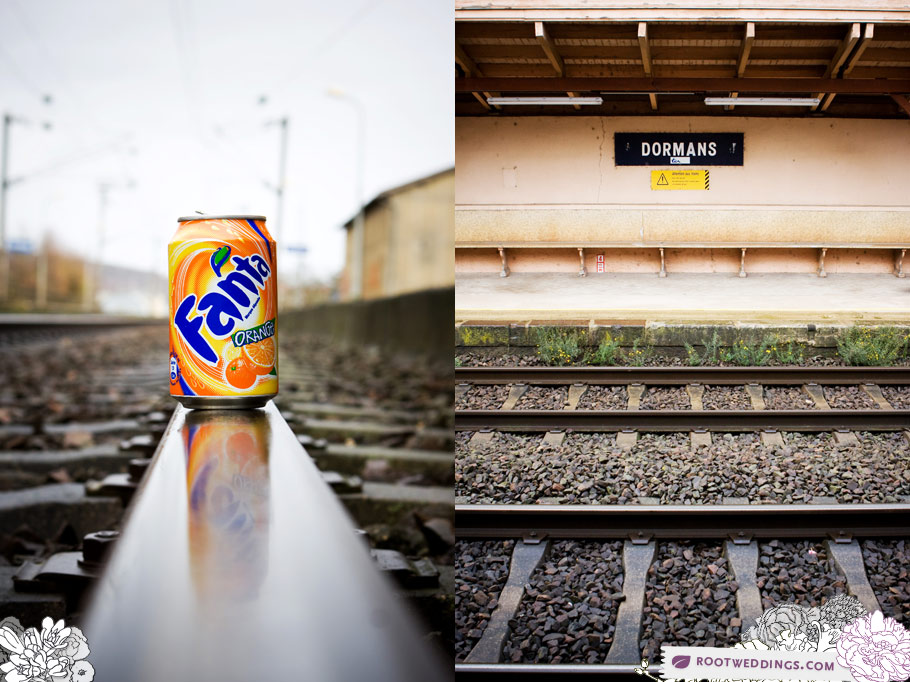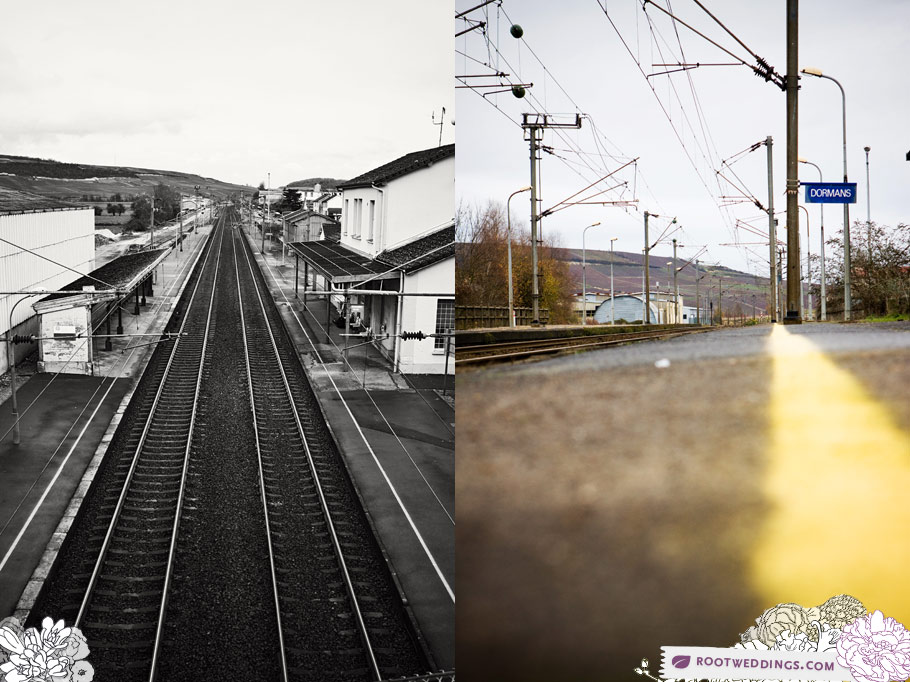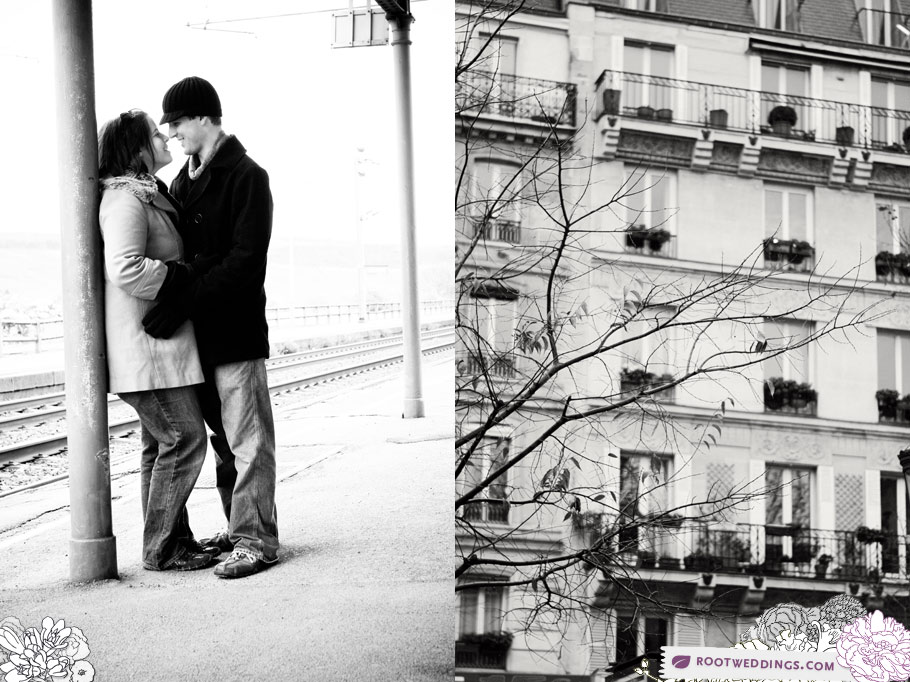 The puppet was singing Kurt Cobain songs, incase you were wondering.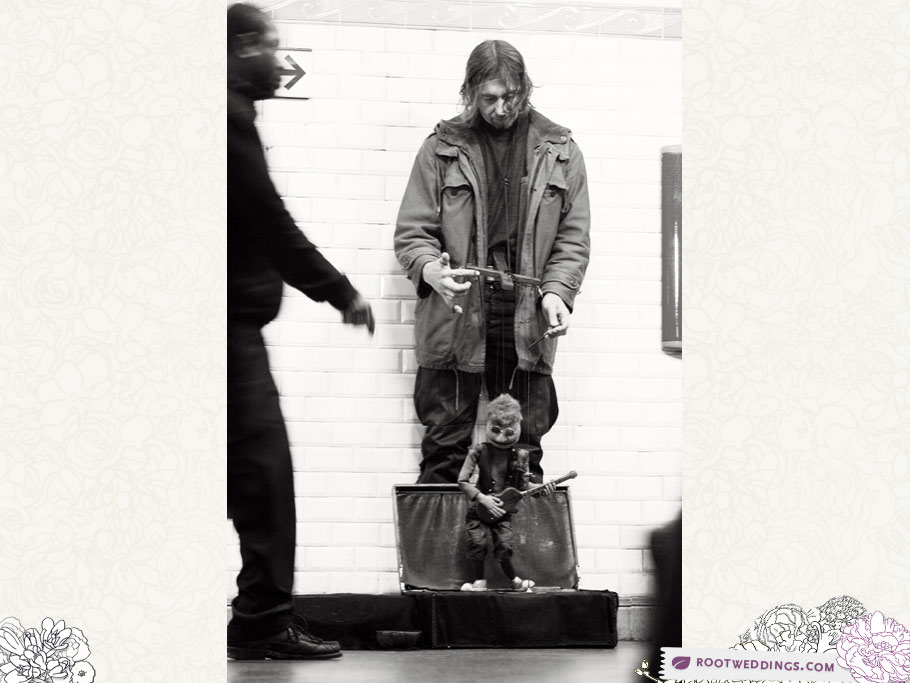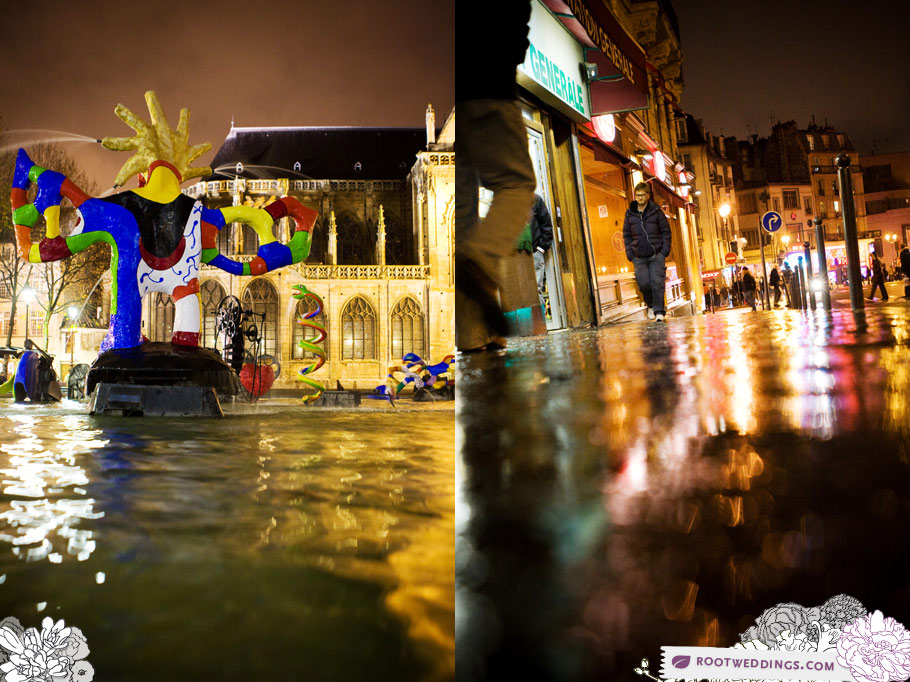 They have red cups in France, too! <3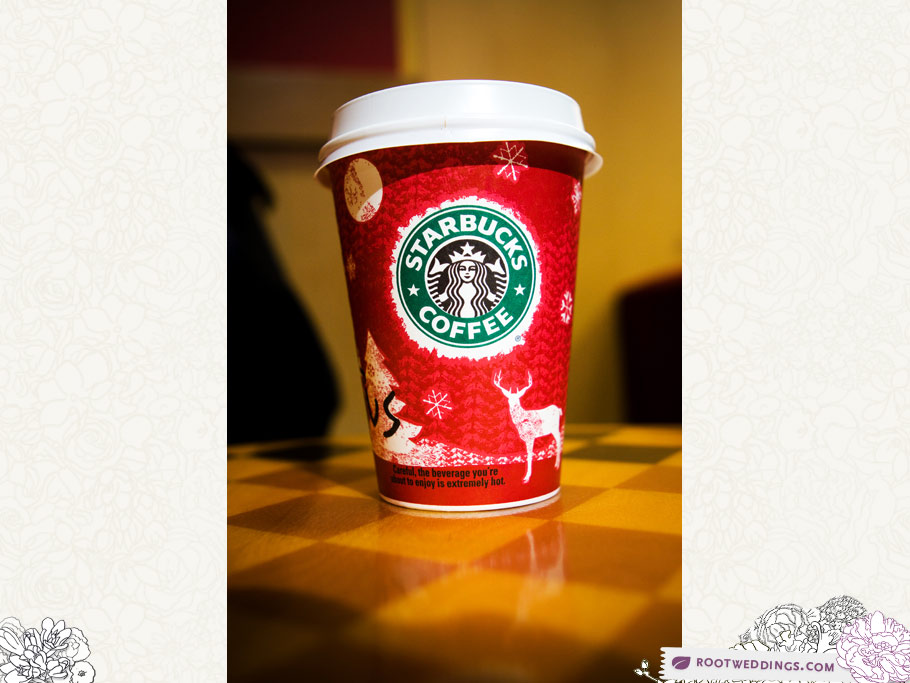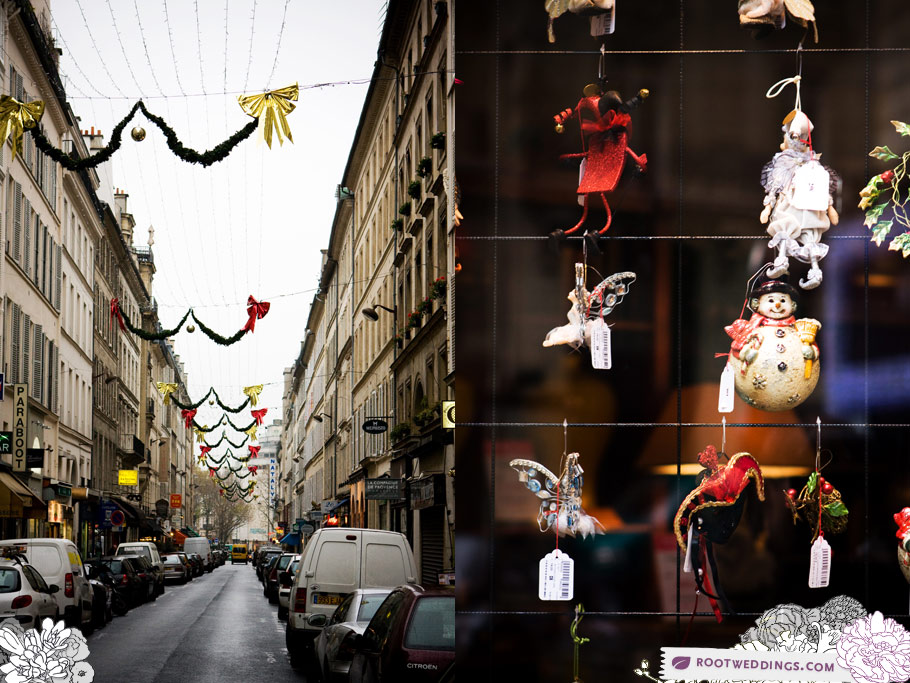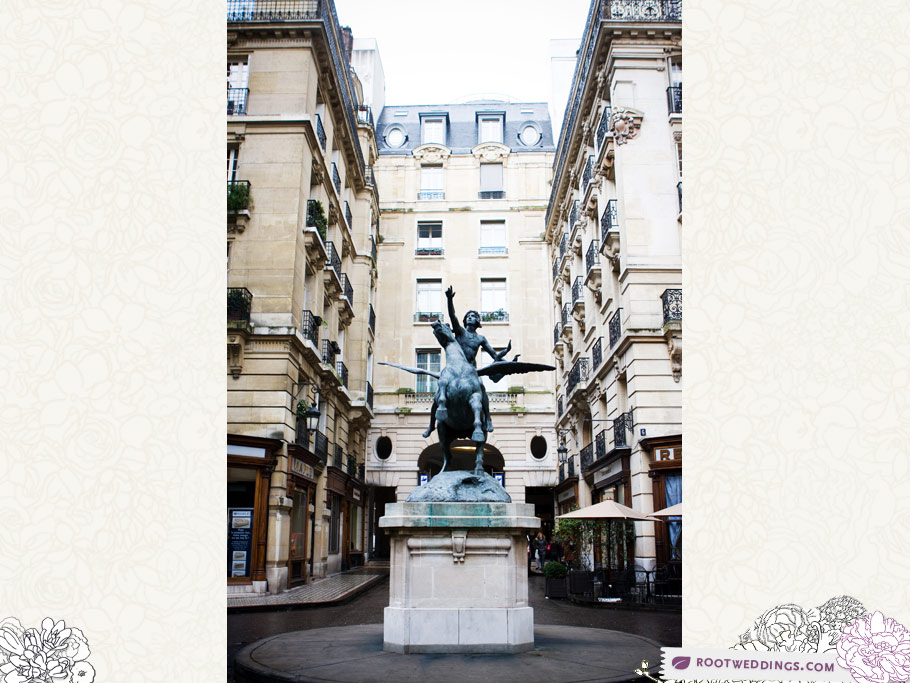 My favorite. :)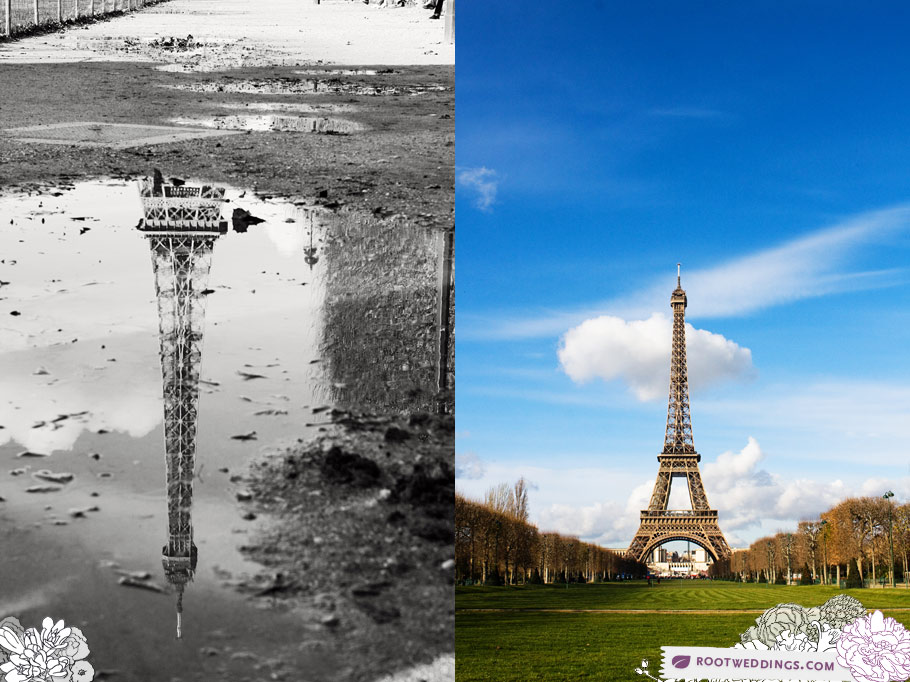 I think this may have been the one sunny day of our whole trip! So Nathan and I were hanging out by the Eiffel Tower when we came in contact with Non Stop Joe. This guy saw us, ran up with his tv crew and explained he has a 24 hour streaming show on a local website. Then Non Stop Joe asked point blank if he could give one of us a piggy back ride. I was slightly terrified and said no, Nate declined as well, and Joe was on his way.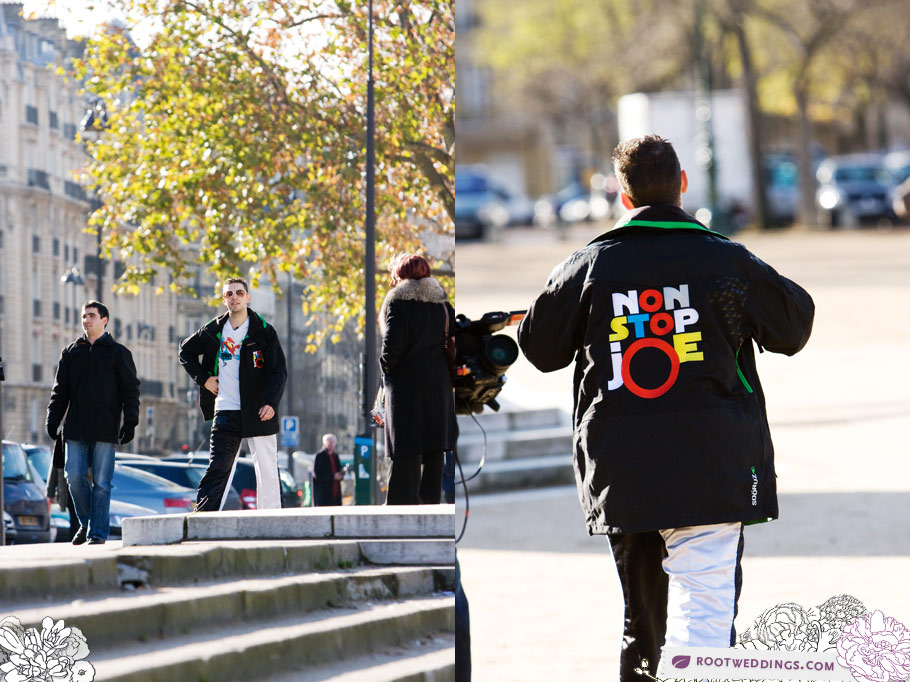 To this day, Nate regrets not getting a piggy back ride from Non Stop Joe. True story.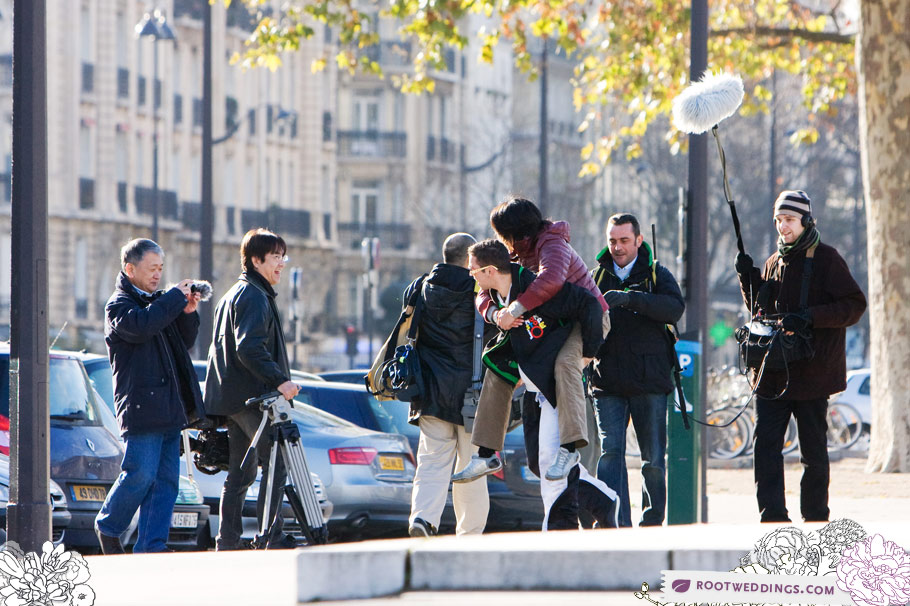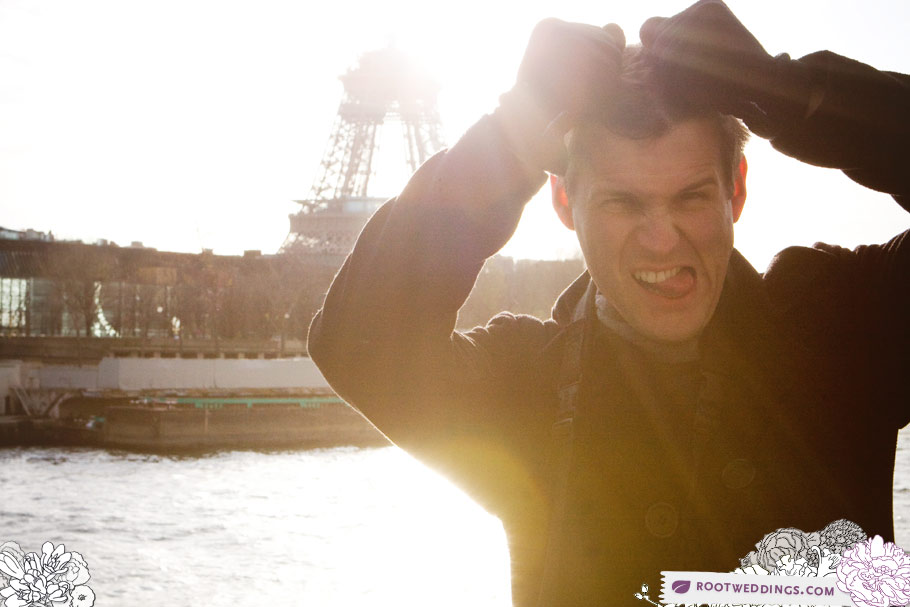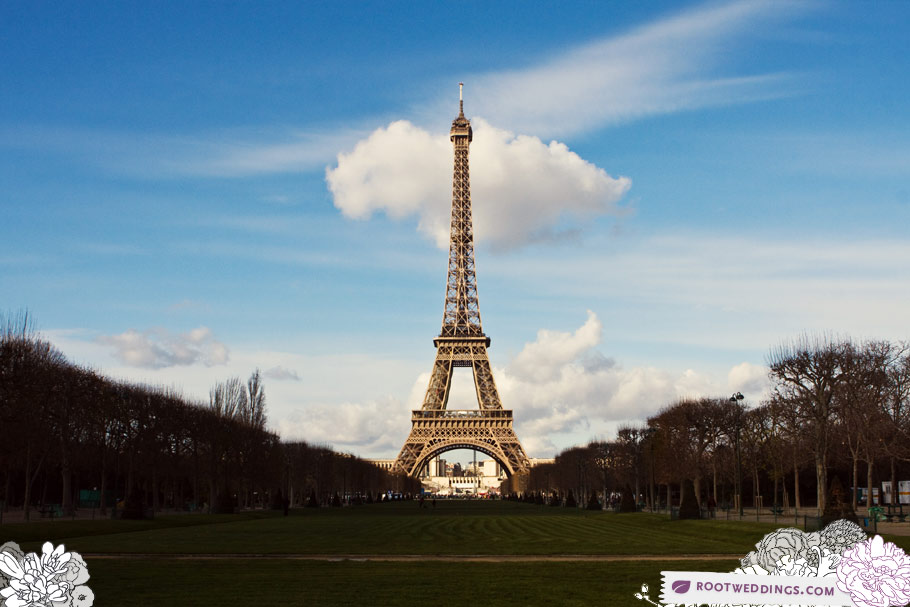 Every dog we met in Paris made us miss our Huck Finn!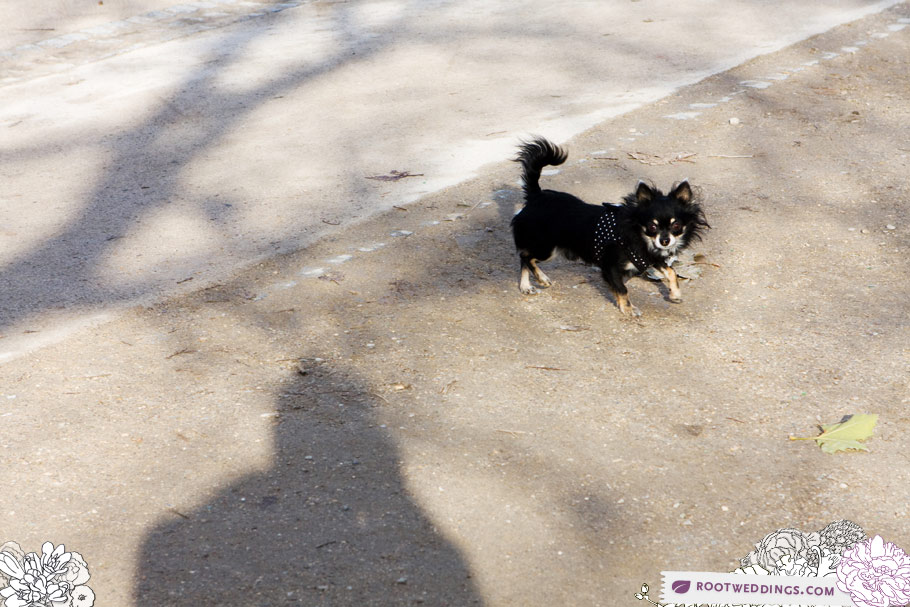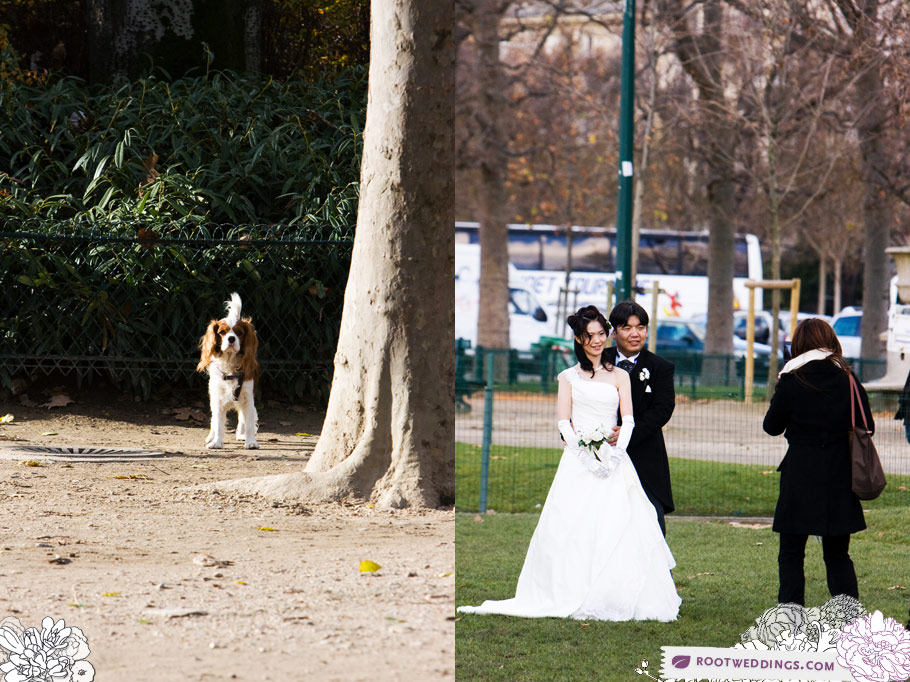 Thank goodness for automatic timers in our cameras!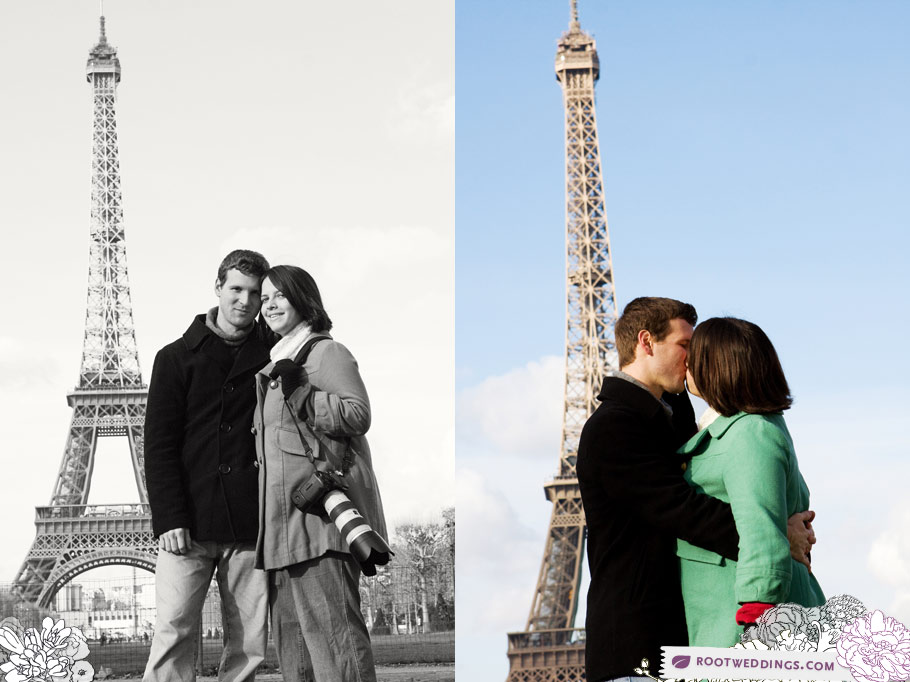 I know I'm posting way too many pictures of the Eiffel Tower, but I can't help it!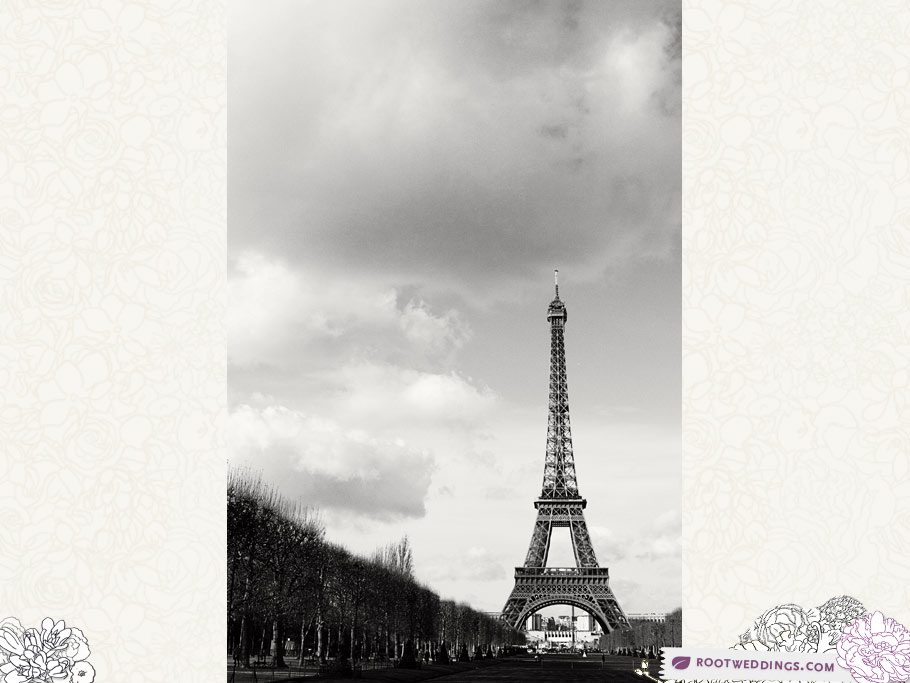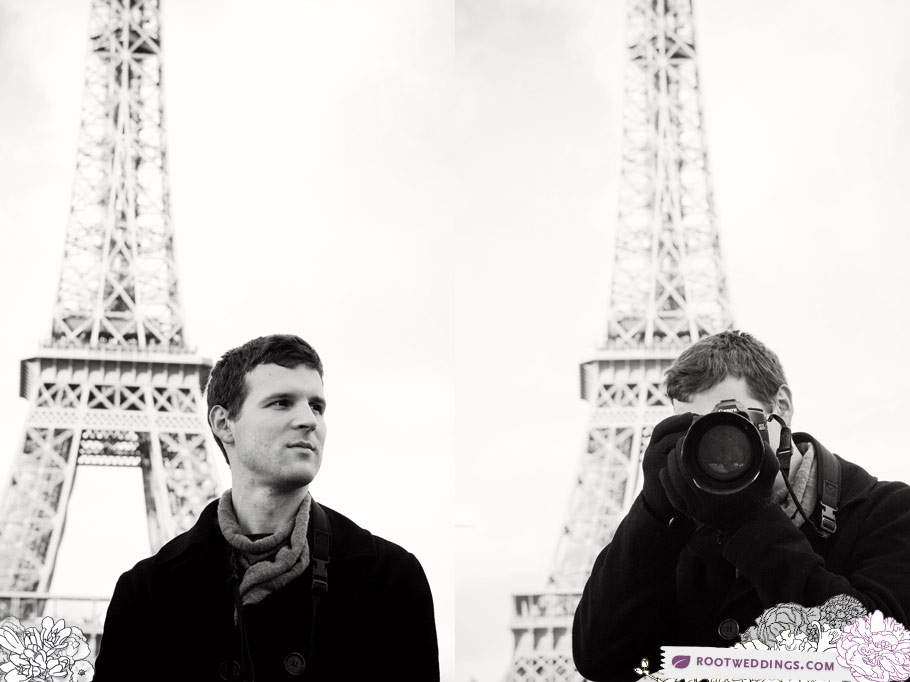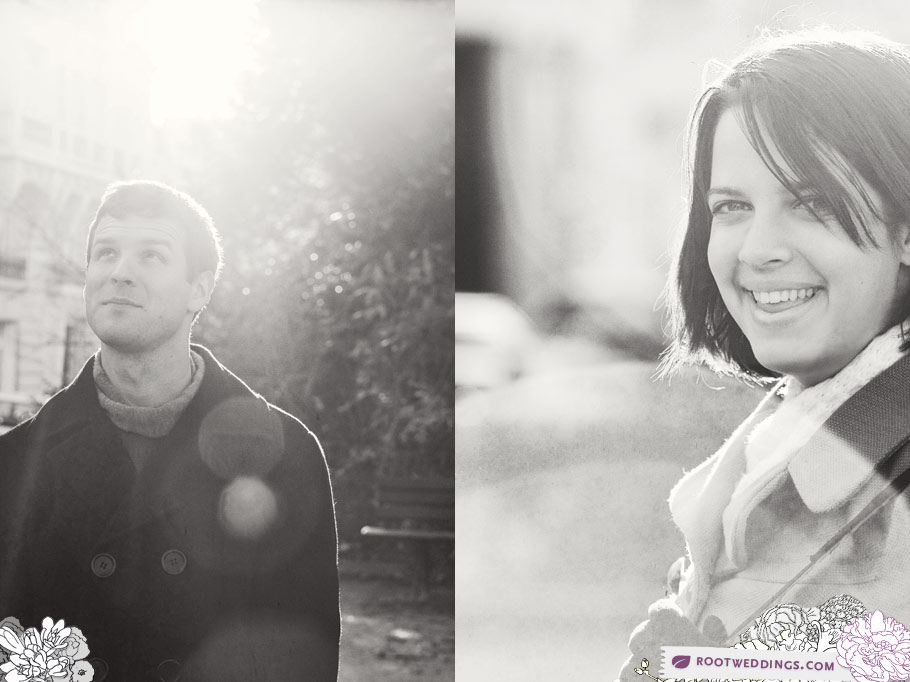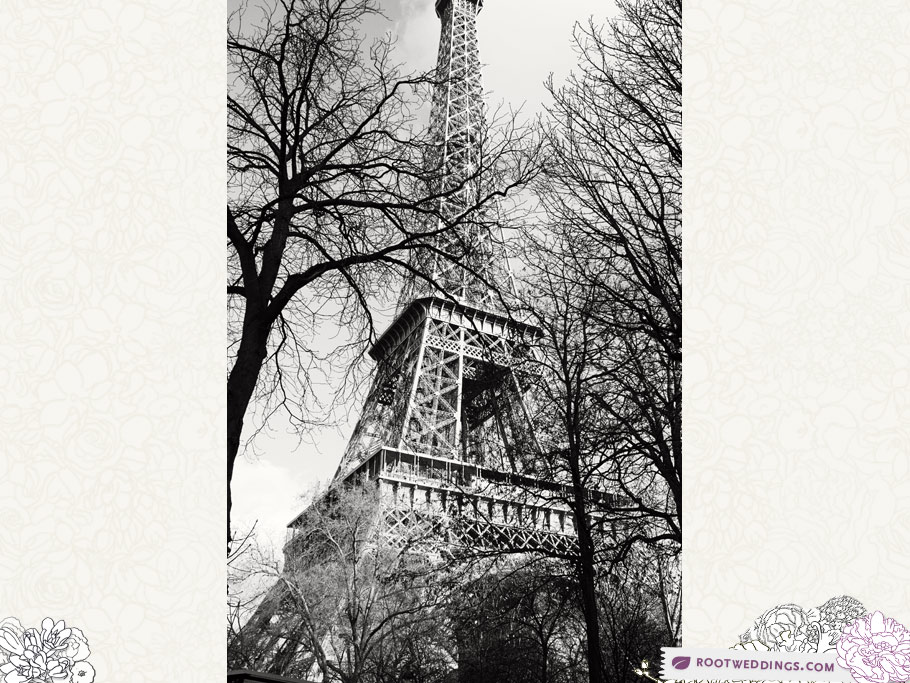 For some reason the photo on the left makes me uncomfortable. Like we're looking up the Eiffel Tower's skirt or something. ;)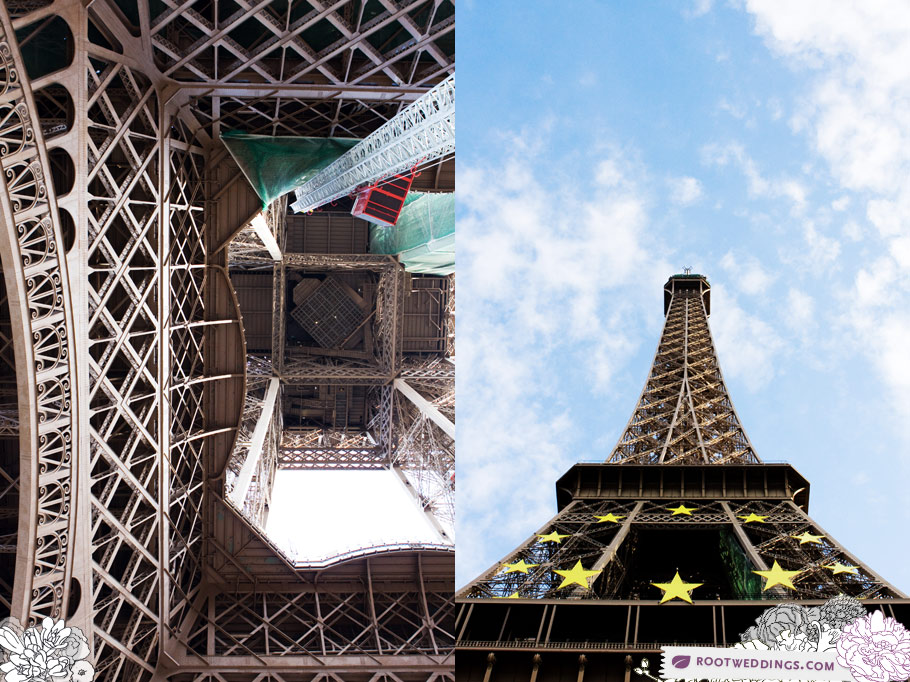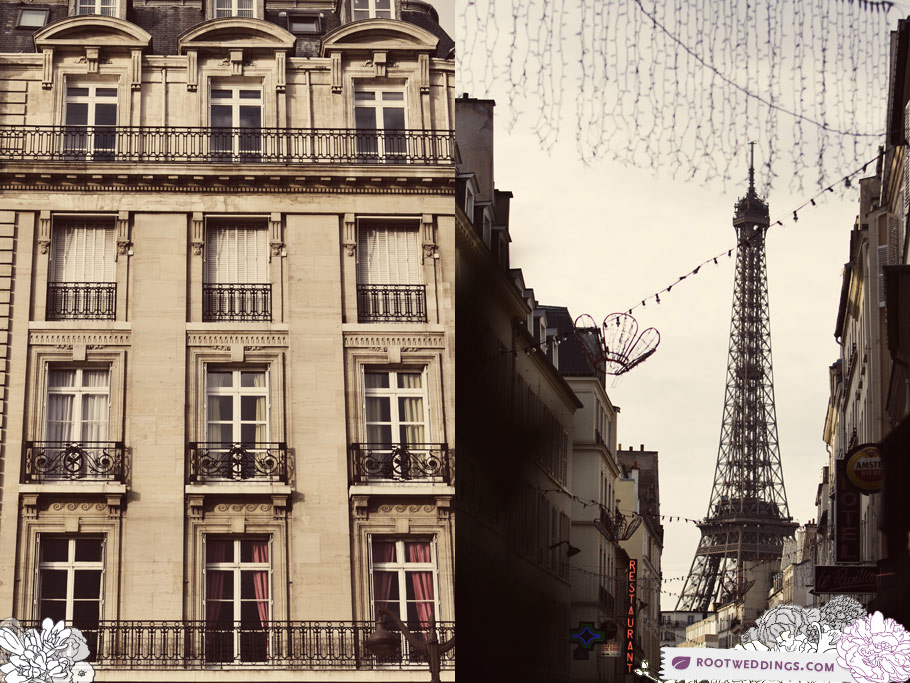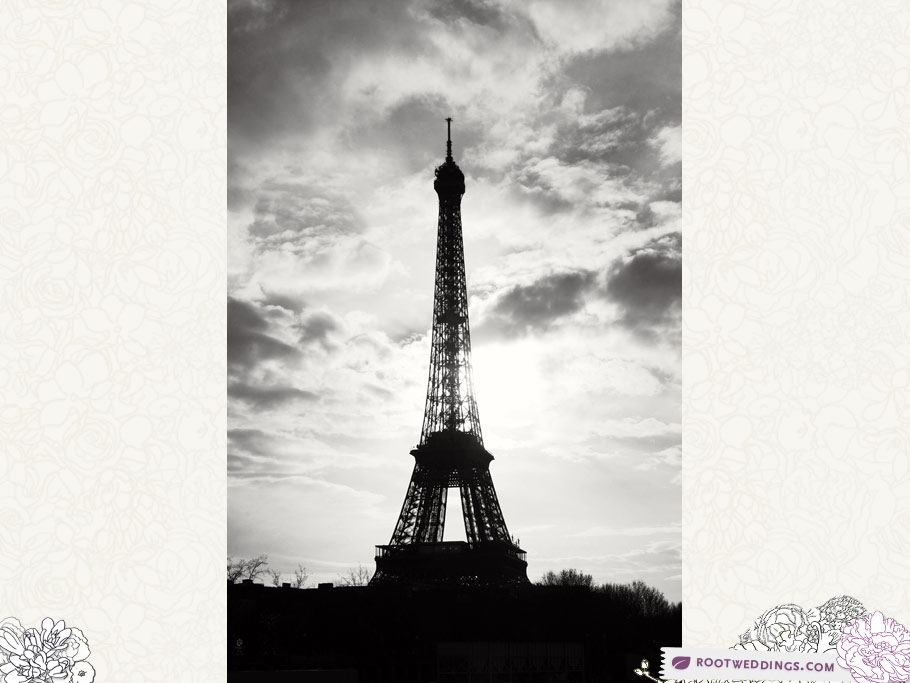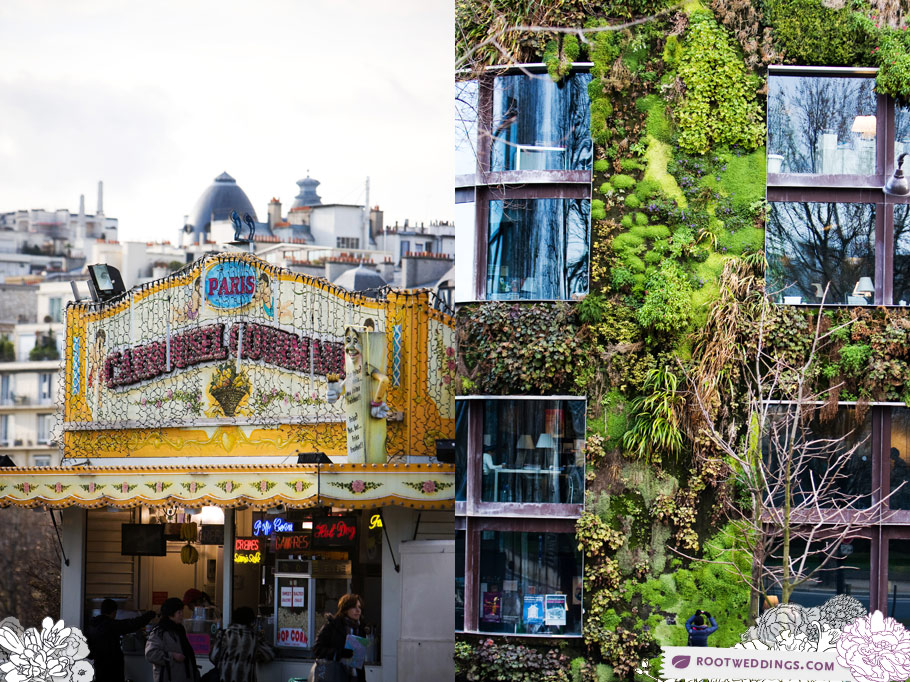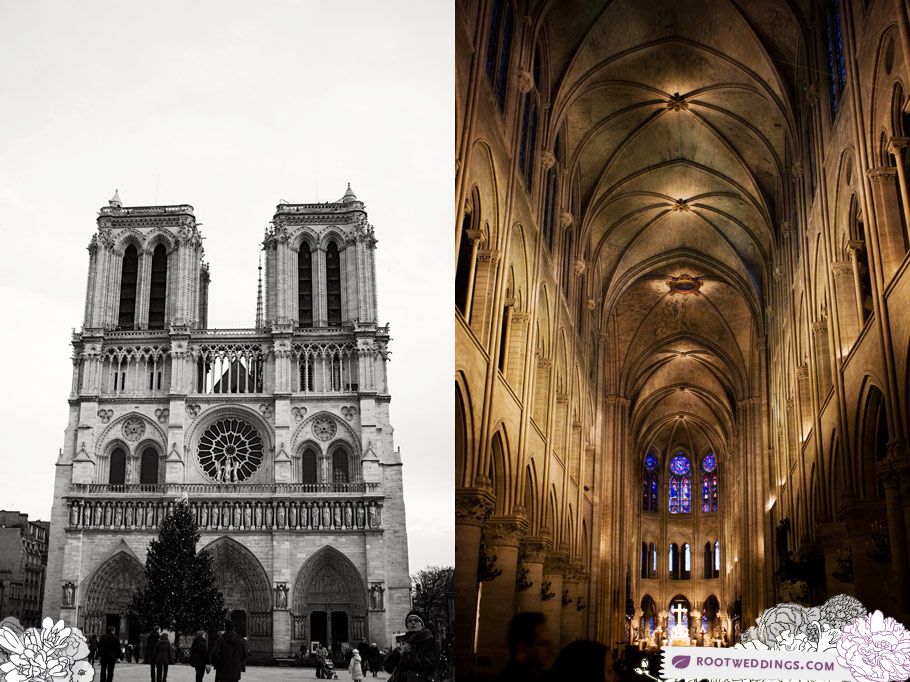 Left: A Paris local. Right: American. (I know we can be hard to differentiate sometimes!)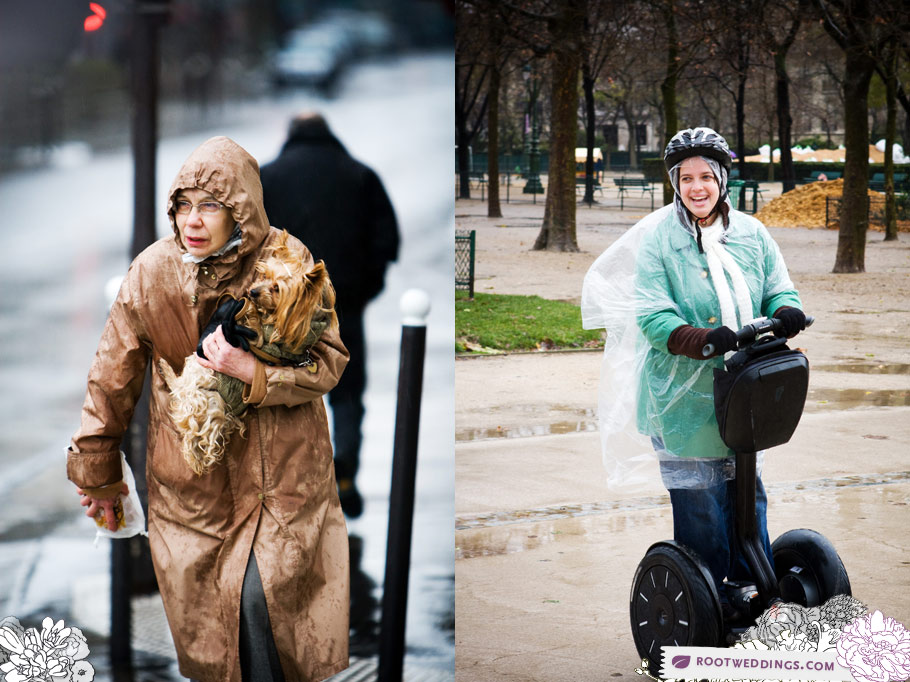 So yeah, we found a pamphlet for an American company- Fat Tire Bikes that gave Segway tours around Paris! We'd been wanting to ride Segways for ages, and this seemed like the perfect time for us. (I'd actually wanted to do the Segway tour at Epcot, but I hear they don't let you off the 'bunny' slow setting… Unacceptable!) Well, we met our Segways ("Segzy Legs" and "Wall-E," respectively), and it was love at first sight. Seriously, these things are SO much fun to ride!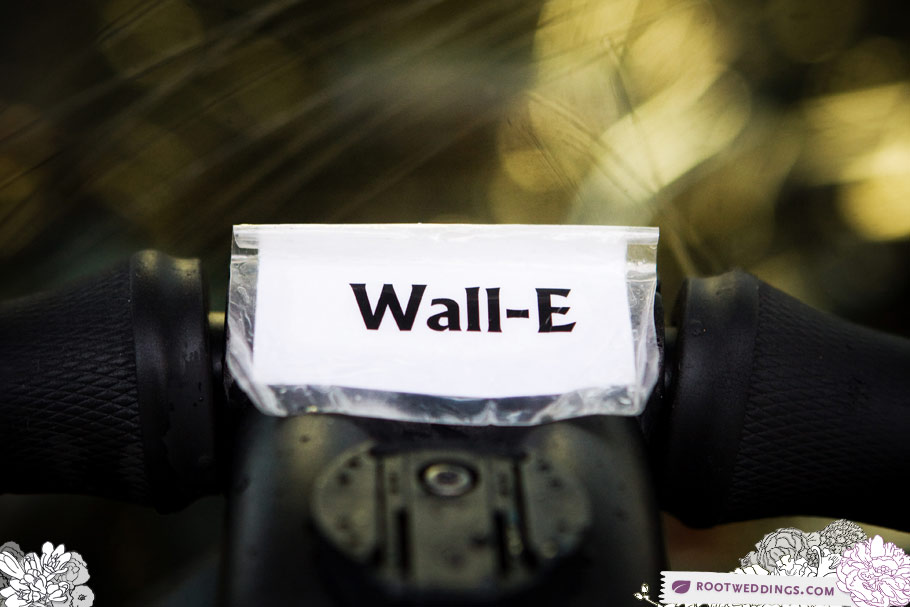 I'm wearing 3 sweaters, a heavy coat, scarf, poncho, AND helmet in this photo. (It was 37º and raining most of our time in Paris- Miserable!) Even though we looked like the biggest nerds ever and I feel like we may look like the modern day Griswold family portrait in National Lampoon's European Vacation, I'd do it again any day!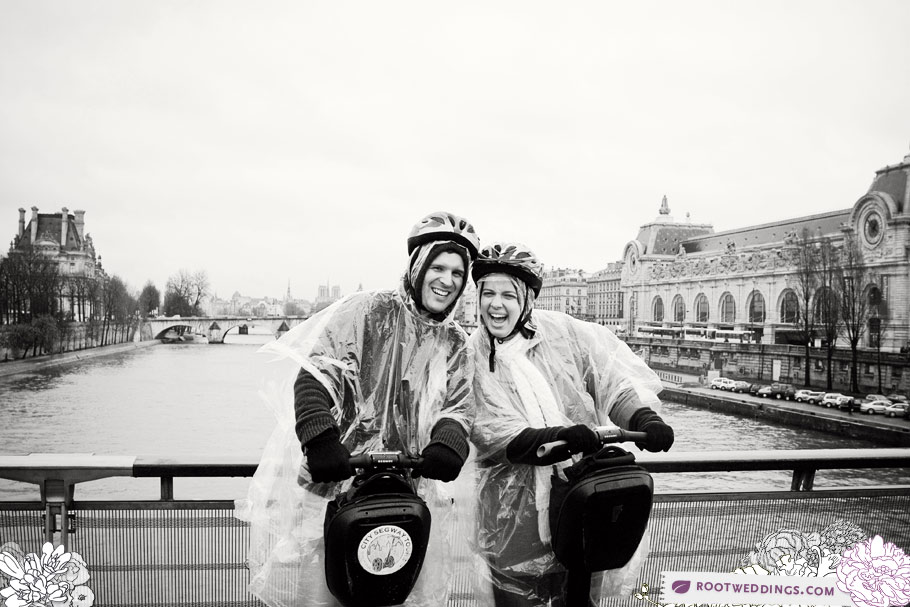 Omg… I can't believe I'm posting these! *Covers face.*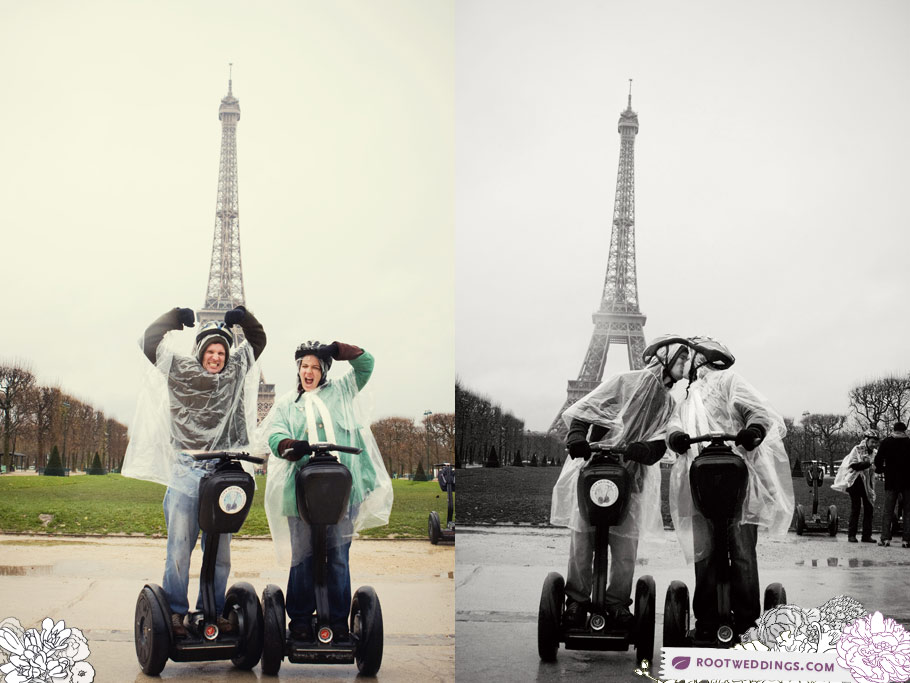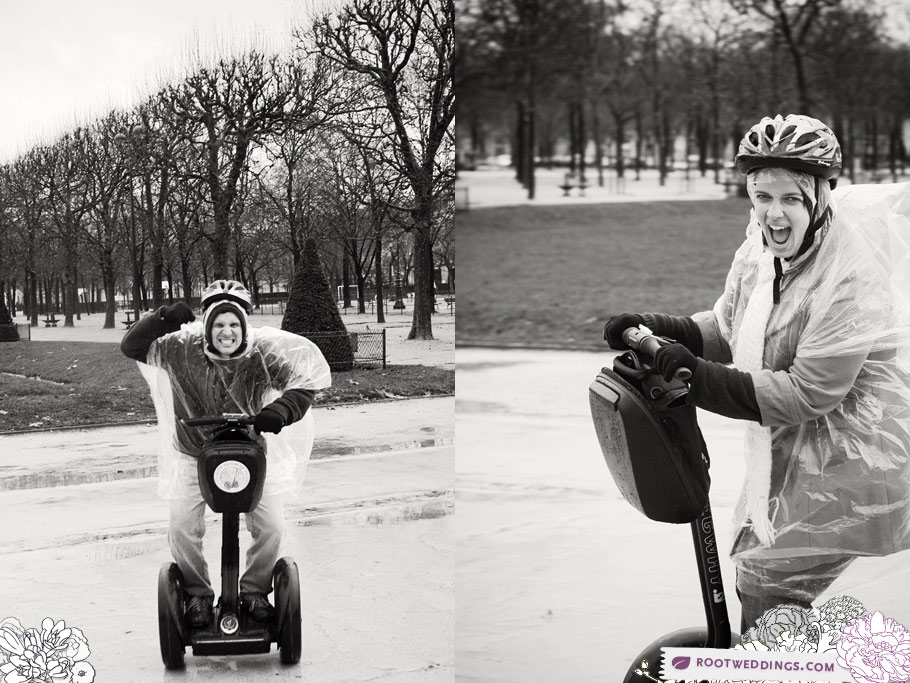 On our last night, we walked the Champs-Élysées which was decked out for the holidays. We passed this really shady shack that encouraged people to step inside to take pictures with Santa. The whole thing was so creepy looking, and even more creepy when we saw a quite un-jolly Santa smoking outside. (I'm crossing my fingers that wasn't the real Santa!)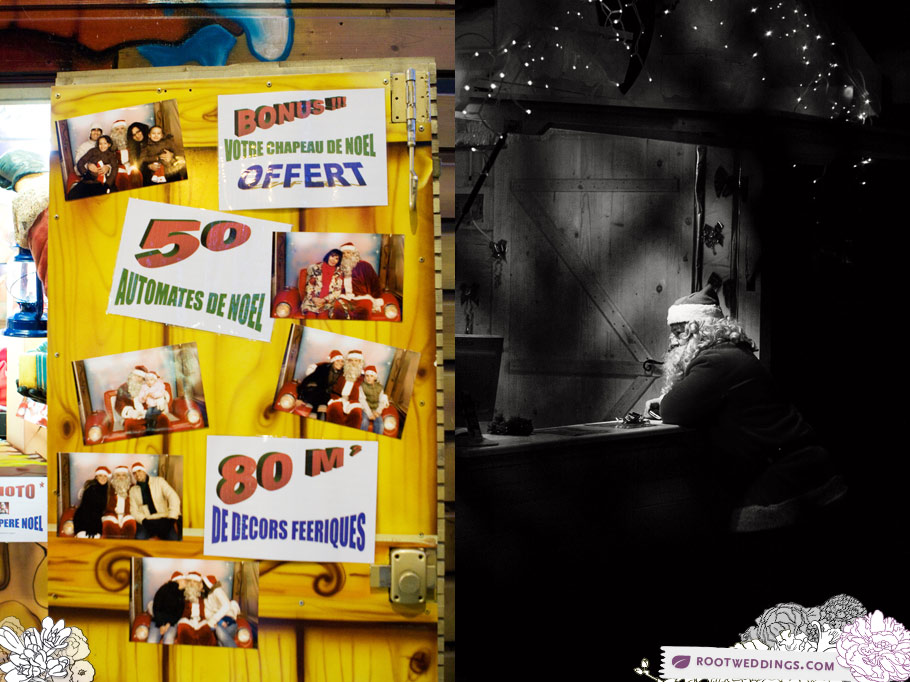 We ended our very cold, very nice trip to Paris with some long exposure shots. :)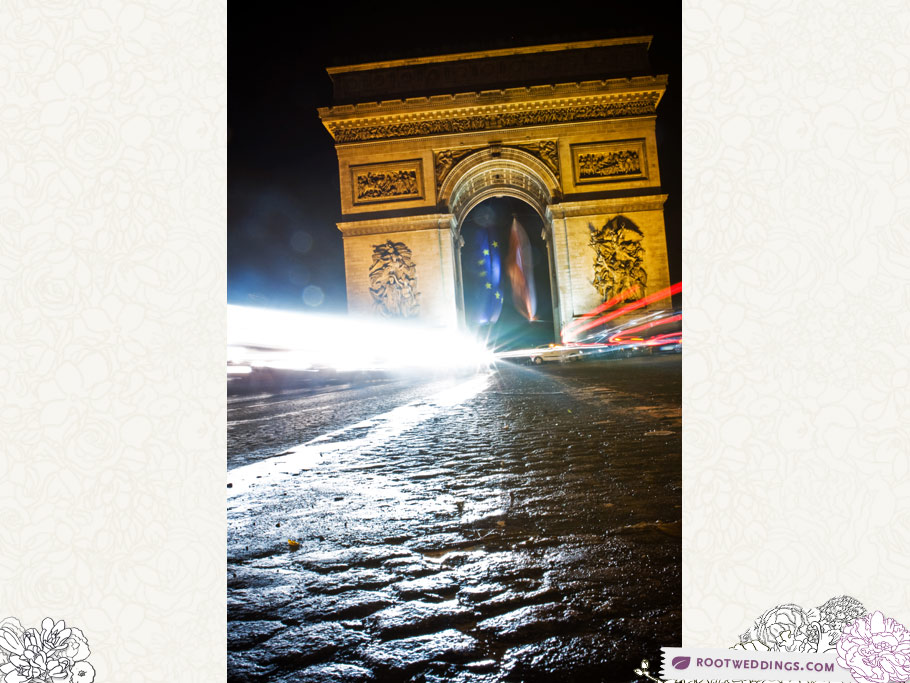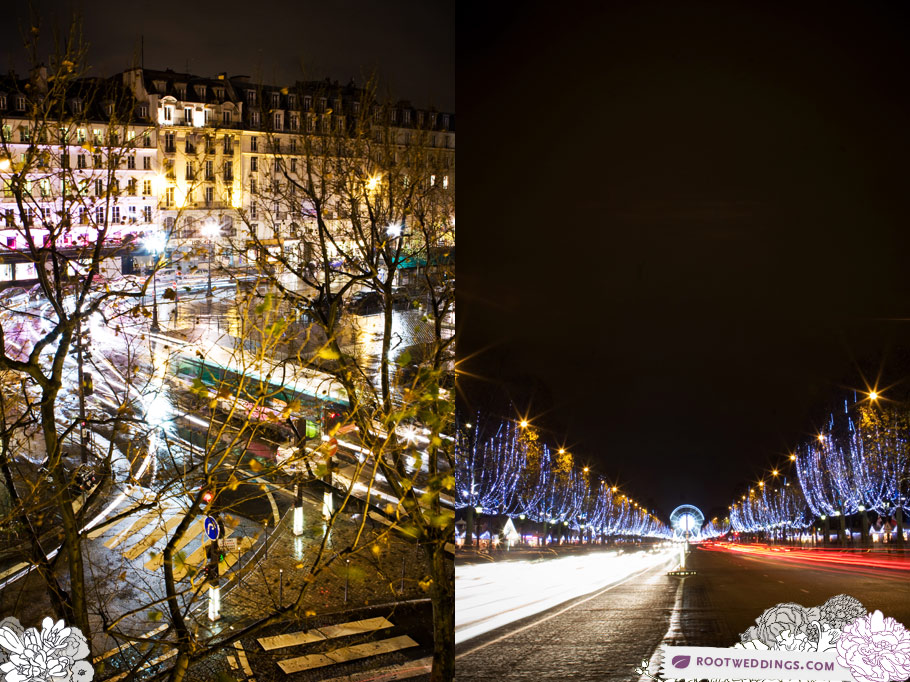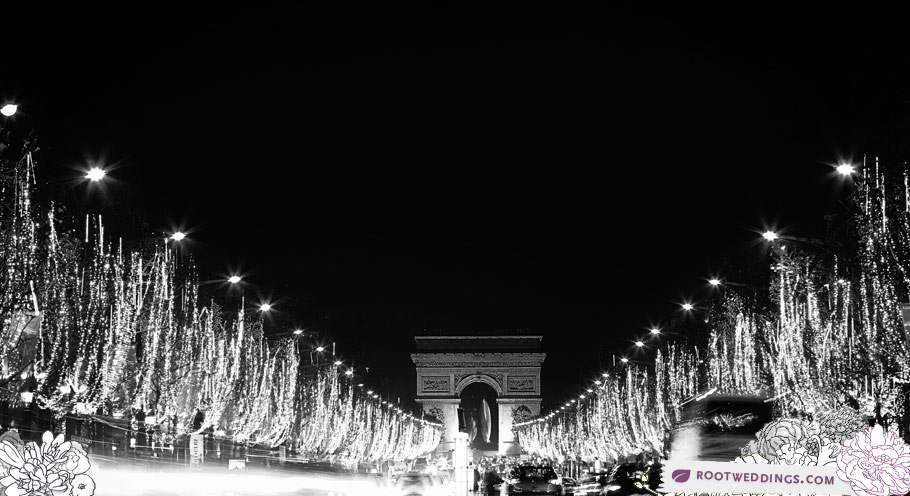 Disneyland Paris photos to come Sunday! :)
19 Responses to "Paris, France : Travel Part 2"
All of your Eiffel tower pictures are making me so excited to go on our honeymoon but upset we can't take you with us! I'm convinced that you guys could make any part of my day more exciting just by your photography! Le sigh…

Erin O'Donnell on July 7th, 2010 at 10:53 pm |
view from the top is one of my faaaaaavs <3
Stefanie on July 8th, 2010 at 7:31 pm
|
I don't think it's possible to stop taking pictures of the Eiffel Tower! I took so many I made the Italian tourists behind us start complaining!!
ATG on July 11th, 2010 at 3:19 pm
|
Ok I am going to comment way too much on this, but I can't help myself…
I am so happy you "won". The pictures are wonderful.
I always love the mirror pictures – so happy to see two in one post. It is wonderful to get to see you both in all these pictures, the black and white ones are always so great.
Jensey you are such a beauty, I bet Nate wants to take pictures of you all the time.
I learn something new every time I read your blogs, I mean who knew puppets sang Curt Cobain songs??
So glad you got your red cups even in France!
LOVED the Eiffel Tower reflection picture, it is amazing. The other pictures of it are so pretty, love the clouds, the sky, everything.
Too funny about Non Stop Joe. I would have been freaked out by a stranger asking that.
What is more romantic than pictures of people kissing at the Eiffel Tower? It is so sweet!
Too cute on the segway, the pictures made me smile. I would be afraid I would kill myself or someone else.
That guy seriously couldn't have been the real Santa, no way Santa would smoke like that. I refuse to believe it!!
Wow, the long exposure pictures are fantastic. Thank you so much for sharing.
Tracy Chapman Brooks
on July 11th, 2010 at 3:25 pm
|
Oh! I am sooo glad you went to Sacre Coeur! I loved it there, the view from the top was absolutely amazing. We were there in the winter time and it was pretty cloudy and hazy the whole time, but when we got up there, the view was just amazing (and worth all those steps – both to get up to Sacre Coeur and to get to the top of it!). I loved Momnarte, we spent a day literally just wandering around there watching all the artists in the square. I truly thing that whole area was one of my favorite in Paris.
I am totally jealous that you guys took the Segway tour at the Eiffel Tower!
We took the golf cart tour at Versailles (and our cart broke down, which is a very long story, and was a very long walk back to the Palace, but anyways…;)). I loved it out there, just walking around the Palace and the grounds. I'm not quite sure about the whole baloon animal art exhibit, I'm glad that wasn't there when we were.
Your pictures are so making me want to go back!!!! So much so that I told Michael that we are going in 2012. Belated honeymoon and all that. ;)
Sarah Greenhawt on July 13th, 2010 at 9:02 am
|
Strangely, the creepy subway-puppet-guy shot is my favorite from the trip. I still hear Smells Like Teen Spirit when I see it :)
Lorie on July 22nd, 2010 at 5:03 pm
|
Okay, I know this is a couple months after this was posted, but coming out of "lurking fangirl going through all of your blog posts because I can't get enough", I just had to mention that I loved the segway pictures. Totally reminded me of my Dad's birthday earlier this year.
My parents and I went on a Segway tour in St. Pete.(We were waaay too embarrassed to do it in our hometown.) It started pouring about 1/2 way into the tour and we dodged strikes of lightning as we rushed from cover to cover, trying to make it back to our starting place. I envy that you had all of those jackets on, we all had one rain jacket each and wound up soaked and cold by the end of it! (Then again, we weren't expecting it to pour.)
I'm so sad I'm not living in Winter Park anymore. I wish I could've met you guys before I moved back home from college!
P.S. How is Huck? Reading what happened to him broke my heart. I have a little orange kitty who is my world, and I know having anything like that happen to her would be devastating emotionally.
Cobi Ackerman
on October 5th, 2010 at 1:14 am
|
I went to Paris yesterday yay!!!!!! But I was wondering what lenses you guys used to get the shots of the Eiffel? I totally plan to go back in Jan or Apr or maybe both in order to see everything. Thanks!
Shell W. on November 14th, 2010 at 5:14 am
|
Hi Jensey!
For your photo of the two of you in front of the Eiffel Tower, I know you said you used the self-timer, but did you have a tripod for the camera to set on, or did you put it on top of bags? I'm trying to figure out how the camera angle wasn't too low! My boyfriend and I travel together so much and we have so few photos of us together. :(
Cristy on October 27th, 2011 at 11:42 am
|
Thanks so much for the quick and helpful response! You guys are awesome!
Cristy on October 27th, 2011 at 12:28 pm
|